Airport Traffic Down 95%; Gets Millions from CARE
Even though traffic at the Billings Airport has dropped to just 5 percent of normal levels, the facility will go forward in sound financial condition thanks to substantial grants from the federal government under the CARES Act, according to Kevin Ploehn, Director of Aviation & Transit, in his report to the Aviation and Transit Commission during their regular monthly meeting.
Impacts to the MET in Billings by the COVID-19 crisis have not been as severe.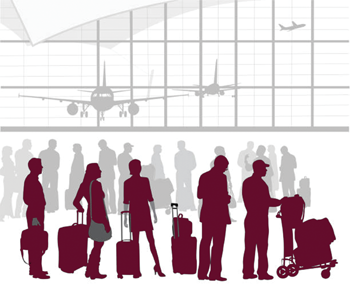 "While March started out great, by mid-March traffic was falling off drastically." reported Ploehn regarding airport boardings. During April the Airport was doing 96 TSA screenings per day on average, as opposed to 1,197 in April 2019.
All industries related to travel were seeing decimated revenues, said Ploehn, and airlines had already had voluntary layoffs and early retirement buyouts to reduce the number of employees and costs.
Ploehn said that he did not think things would return to normal until the Summer of 2021, and maybe later if people change their attitude about travel, use technology more for virtual meetings, there are more social distancing requirements, and if people cannot afford to travel. The airline industry is likely to be much smaller in the "near future."
Ploehn projected that the Billings Airport would see a revenue shortfall of $4 million to $5 million, mostly due to a drop in concession and airline revenues. However, they will be very well compensated for that loss with the $12,721,011 the Airport was allocated under the CARES Act, which will cover two or three years of revenue shortfalls.
Additionally, the CARES Act included other benefits for airports such as dropping the requirement for matching the regular 2020 AIP funds. The Feds will pay 100 percent. The change could be worth $700,000 to $800,000 to the Airport depending on how much in AIP (Airport Improvement Program) Discretionary funds the Airport receives this year.
In order to shed some costs to the Airport, two of the Airport Police Officers were reassigned to MET Transit to patrol the transfer centers and bus stops due to transient issues. Additionally, some custodial staff will transfer to MET and do deep cleaning and other tasks to enhance the cleanliness of the MET facilities. No seasonal employees will be hired, some maintenance contracts were halted, and very little capital dollars will be spent this year.
Ridership on MET buses was down 31 percent in March, which was largely accounted for by the decline in student riders, since the schools were closed. MET continued to have 600 to 800 passengers daily. However, MET too will be saved from financial hardship by funding from the CARES Act. MET received an allocation totaling $5,358,483. Ploehn said that this additional funding would keep MET fiscally sound for a number of years.
Benefits of the CARES Act funds include, no expiration, all expenses 100 percent reimbursed, and the funds can be used for capital procurements or projects.
Since the direct purchase of tickets from the drivers became a safety concern, fares were waived for April and May, which costs the city enterprise around $48,000 per month. MET staff has put together a Request for Proposals for an Electronic Fare Collection System so that passengers may buy their tickets electronically to avoid the interaction with the driver. Individual fares only account for approximately 10 percent of MET revenue.
Ploehn noted that the CARES Act also changed the regular 5307 operating grant from a 50/50 Federal/Local match to 100% Federal for items related to COVID-19, which MET can use for the two Airport Police Officers working for MET and the hours of the Airport Custodial to clean MET facilities.
Construction of the $60 million Terminal Expansion Project is progressing. The anticipated funding for the project will come from AIP grants at $29,100,000; PFCs of $1,600,000; financing or bond funds of $24,000,000, and $5,300,000 of Airport local match funds for a total of $60,000,000.
A Request for Qualifications was advertised for financial institutions interested in the financing of the Terminal Expansion Project.